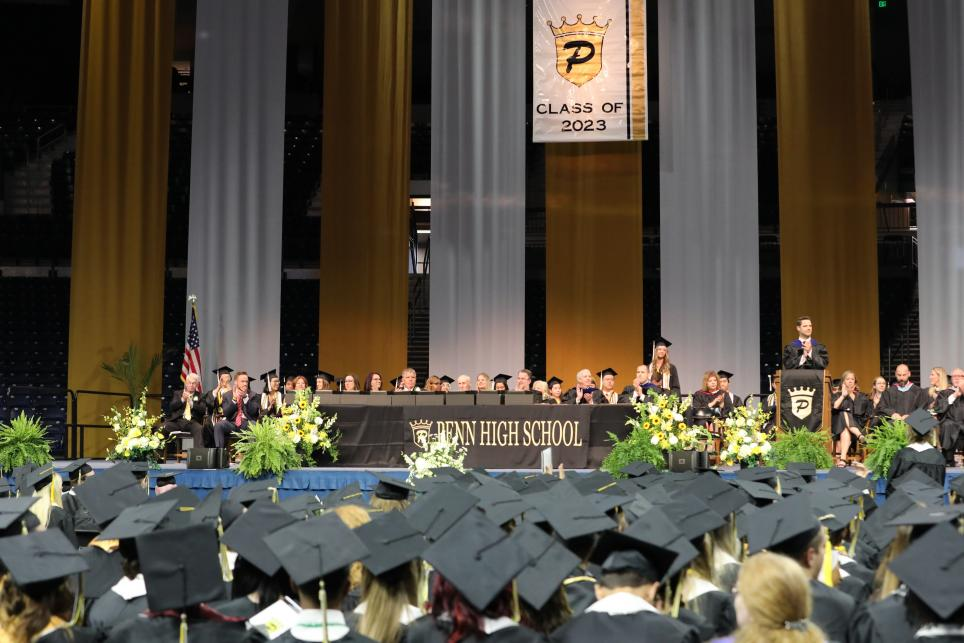 2023 Commencement Photo & Video Gallery
Posted on June 6, 2023



On Monday, June 5, 2023, Penn High School held our 64th Commencement; it was held at the University of Notre Dame. The Class of 2023 is made up of approximately 876 students. It was a wonderful time to celebrate the hard work and accomplishments of ALL of our graduates!

Highlights from the Class 0f 2023 include:
$15 million in scholarships
446 earned Academic Honors diplomas
253 earned High Honors diplomas
41 earned Technical Honors diplomas
119 Early College Students

106 earned ICC through Ivy Tech Community College
89 earned Associates Degrees from Ivy Tech
Click here for more information about the Class of 2023. Click here to learn more about 17 Valedictorians and Salutatorians.
Click here to download a copy of the Commencement program.
The full ceremony was recorded and has been archived on the Penn Harris Madison YouTube channel. You can watch it below.
In addition to the fully produced program, we set up a camera to focus only on the students walking across the stage. If you want to see your graduate walk again, you can fast forward to their name in the alphabet and watch them in the video is below:
The official photos of every graduate were taken by Inter-State Photography and are available for purchase. Please refer to the Senior Parent Communications for the link and password.
Unofficial candid photos were taken by Penn-Harris-Madison School Corporation staff. We have uploaded these candid photos to the photo gallery below. To download these high-resolution jpg files for FREE from the photo gallery below, just simply click the "DOWNLOAD" button on the bottom right-hand corner of the photo while viewing it in the Photo Gallery function.
Last Modified June 20, 2023