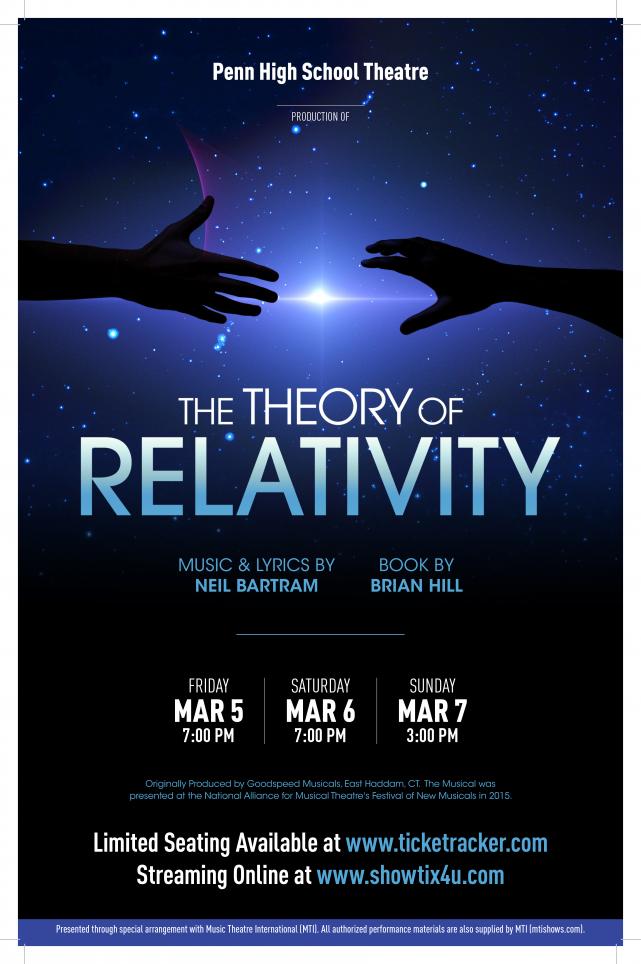 The Penn High School Fine Arts and Communications Academy presents the musical, "The Theory of Relativity", March 5-7.
The play is scheduled to open at 7 p.m. on Friday, March 5, and is set to be performed at 7 p.m. on Saturday, March 6. A matinee is scheduled for 3 p.m. on Sunday, March 7.
Limited seating is available at ticketracker.com for $10 a ticket. Pre-sale tickets for parents will be held online the week of Feb. 15-20 instead of in-person. We are only doing 25% capacity in the CPA at the guidance of the St. Joseph County Department of Health.


A live stream for $10 will also be available online at www.showtix4u.com.
"The Theory of Relativity" is based on the book by Brian Hill, with music and lyrics by Neil Bartram.
According to the Music Theatre International website:
"The Theory of Relativity is a joyous and moving look about our surprisingly interconnected lives. Whether you're allergic to cats, in love for the first or tenth time, a child of divorce, a germaphobe or simply a unique individual, audience members and actors alike are sure to find themselves in this fresh new musical.
Through a seemingly unrelated collection of songs, scenes and monologues, The Theory of Relativity introduces a compelling array of characters experiencing the joys and heartbreaks, the liaisons and losses, the inevitability and the wonder of human connection."
Penn Theatre has undertaken extensive precautions for the safety of the cast, crew and patrons. Click to watch the video below to hear from Penn Musical Director Danielle Black on all the precautions taken to make this a safe production for the students and audience.
A list of all precautions taken are listed below. All were done in consultation with and taking guidance from the St. Joseph County Department of Health:
Per the St. Joseph County Department of Health (SJCDoH), the CPA audience will be limited to 25% capacity and the audience will be required to wear masks.

Per SJCDoH student actors/singers will be masked during the performance, for the exception of the soloist. In these instances the soloist can remove their mask, but per the SJCDoH the soloist will socially distance 15 feet away from other students on stage.

Audience members not part of the same household will be spaced out at least 6 feet apart.

Tickets will be sold online (not in-person) and streaming of the musical will be offered patrons who do not wish to see the play in-person, or cannot get tickets.

Students have been masked through the entire rehearsal process leading up to dress rehearsals. Student actors will also be masked for the performances per SJCDoH.

CDC guidelines for social distancing has been followed during all student rehearsals.

Choir rehearsals vary in locations to avoid spread by using the same spaces for the entire rehearsal process (stage managers are helping to spray down areas).

Removing complicated costuming and makeup factors - students will come dressed and already in make-up to avoid crowding and guarantee social distance in the dressing rooms.

Choosing a song cycle musical with a cast about half the size of typical years.

Double-casting or understudy provisions for each character, so if COVID or quarantine issues arise, the show can still go on.
Multiple meetings have been held to plan extensive precautions for cast, crew and patrons.
An online audition process was conducted to help keep students and staff safe.