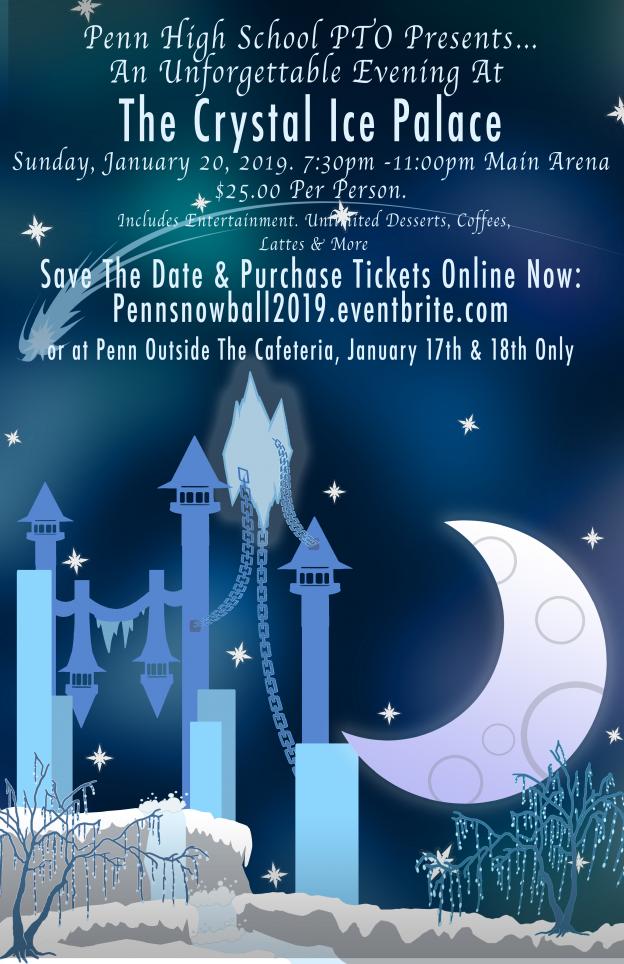 Penn High School's annual Snowball Dance will be held from 7:30 – 11:00 p.m. on Sunday, Jan. 20, 2019.
Join your fellow Kingsmen for an incredible 2019 Snowball experience. The theme for the 2019 Snowball Dance is the Crystal Ice Palace.
Tickets are $25 per person, which includes all-you-can drink lattes, coffees, frappucinos, as well as a delectable dessert bar, dancing, and of course some special "surprises" throughout the evening.
Click here to purchase tickets. Tickets may also be purchased at Penn outside of the Cafeteria only on Thursday, Jan. 17, and Friday, Jan. 18. Please note $1.95 service fee will be charged by Eventbrite for tickets purchased online.
Bring a date, a group of friends, or come solo.
The entrance for the dance will be at Door C. The dance will be held in the Main Arena and West Balcony.
*Be sure to check your confirmation email for the link to make your song requests in advance.
*Also please note that this year shoes WILL BE ALLOWED. Students will not need to remove their shoes. A tarp will be on the Arena floor to protect the court, but students will be able to keep their shoes on.