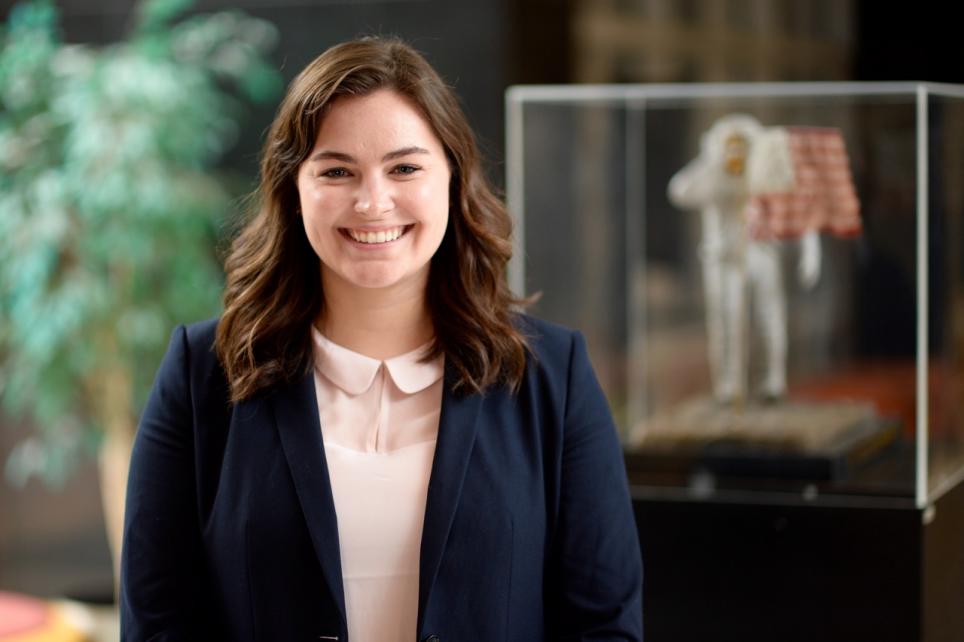 On the eve of the 50th Apollo 11 Anniversary celebrations, we are taking time to highlight Class of 2010 graduate Sadie Holbert. Sadie is a government contractor for Leidos working as a flight controller in mission control at NASA's Johnson Space Center in Houston.
Sadie, a 2015 graduate of Purdue University, will be involved in NASA's upcoming "Explore Moon to Mars" missions that will send humans back to the moon. Sadie is on the Guidance, Navigation, and Control team for the first Orion mission, scheduled to launch in 2020 and will fly the Orion capsule out around the moon and back, testing the vehicle before NASA flies humans on it for the second mission. Sadie tells us she's been involved in ramping up simulations to practice flying the Orion spacecraft, "While we've had humans continuously occupying the International Space Station for almost 19 years, I'm really excited to send people beyond Earth orbit again. Hopefully it inspires the current generation of students to pursue STEM careers!" says Holbert. Click here to watch a NASA video about the "Explore Moon to Mars" missions.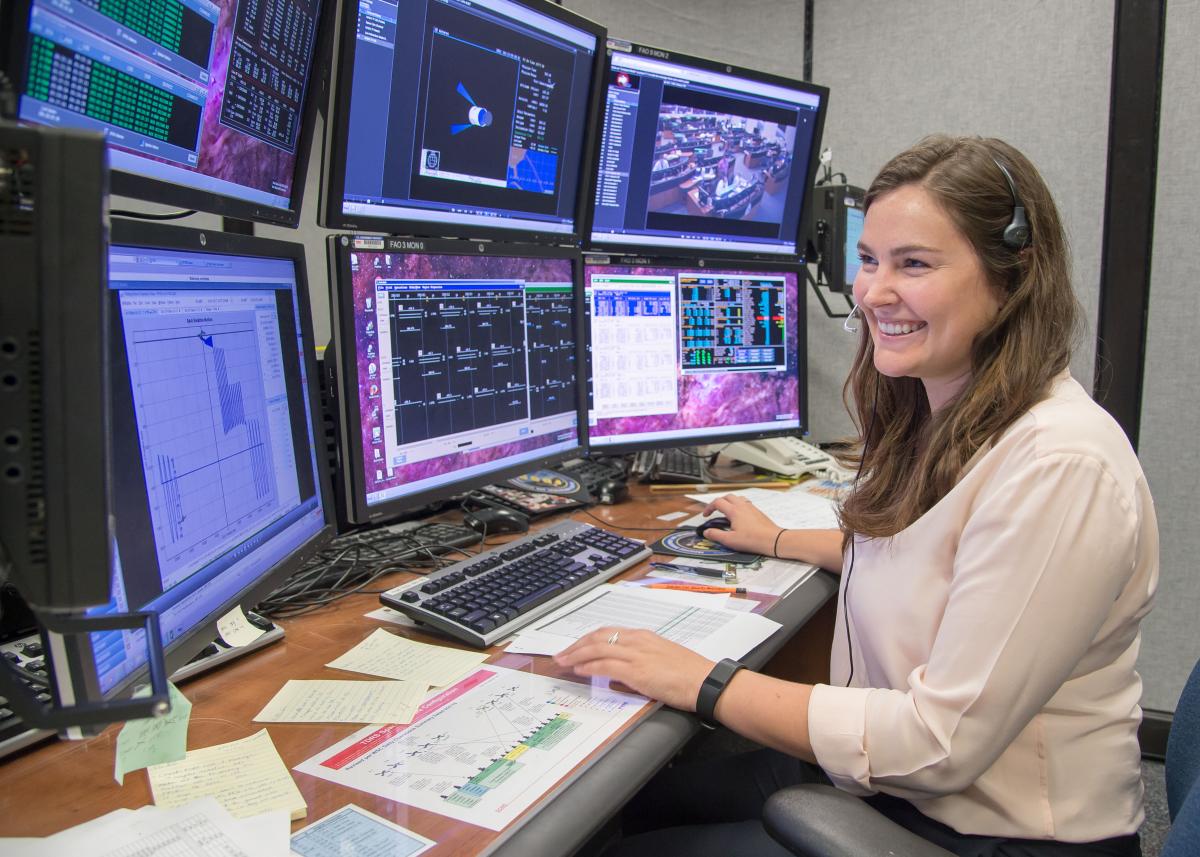 Sadie has worked at Johnson Space Center for nearly four years. She currently works in Flight Dynamics as an Attitude and Pointing Officer and support NASA's International Space Station (ISS) program and the Artemis program, which will take humans back to the moon. Sadie tells us she's responsible for scheduling communications satellites for the ISS and the different cargo spacecraft, and soon, the spacecraft that will be flying astronauts from the US to the ISS.
"One of my favorite roles is supporting the science experiments on board ISS," says Sadie. "My group provides analysis that assists in data collection for many payloads studying solar irradiance, plant respiration, and carbon levels over different cities. The ISS is a great platform for studying the Earth and the effects of climate change."
Sadie earned a B.S. Aeronautical and Astronautical Engineering with a concentration on spacecraft dynamics and controls. She was very active in the Purdue's chapter of Students for the Exploration and Development of Space (​SEDS) serving in various leadership roles. Through this group, she organized a forum for Purdue students and professors to evaluate the plans of all the commercial companies competing for contracts to take NASA astronauts to the International Space Station and present the evaluations to a NASA administrator. Sadie tells us she also helped design, build, and fly a rocket for a NASA sponsored competition called University Student Launch Initiative (​USLI).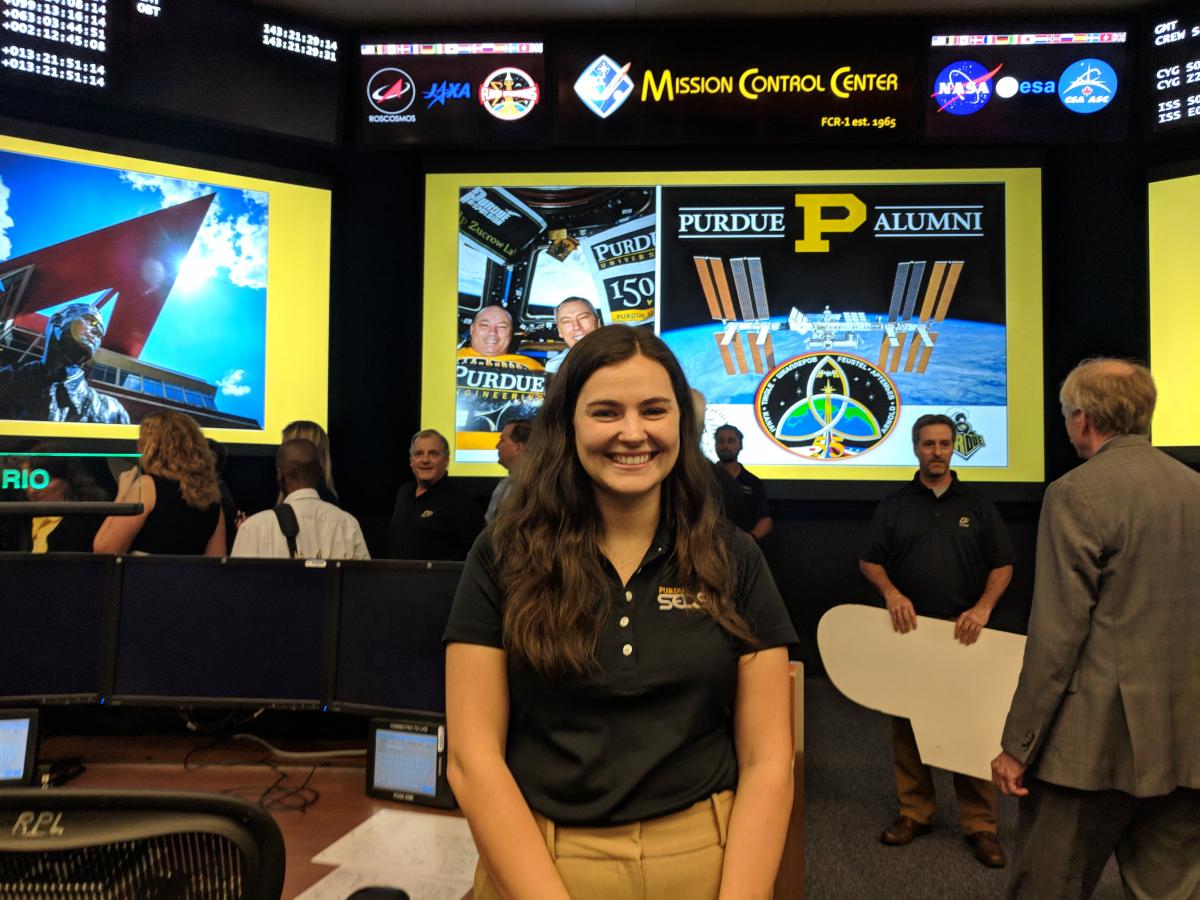 So where did Sadie get her love for STEM and space exploration? Penn High School of course!
James McPhee was her physics teacher for two years and Sadie credits Mr. McPhee as the first person that convinced her to think of myself as an engineer! Sadie also notes P-H-M teachers Rob Lovett, Jim Sauer, Mrs. Lutkus and Mrs. Watts.
"Rob Lovett was my teacher for first through third grade and really helped shape who I am as a student and person. I owe my ability to communicate effectively largely to Jim Sauer at Penn and still prescribe to his "Claim Reference Commentary" method. … I'd be remiss without mentioning 'mis maestras de espanol,' [my Spanish teachers] Mrs. Lutkus and Mrs. Watts, who always put a smile on my face."
Sadie Holbert is just one of many Penn Kingsmen using their #PHMExcellence to make a difference in the world!