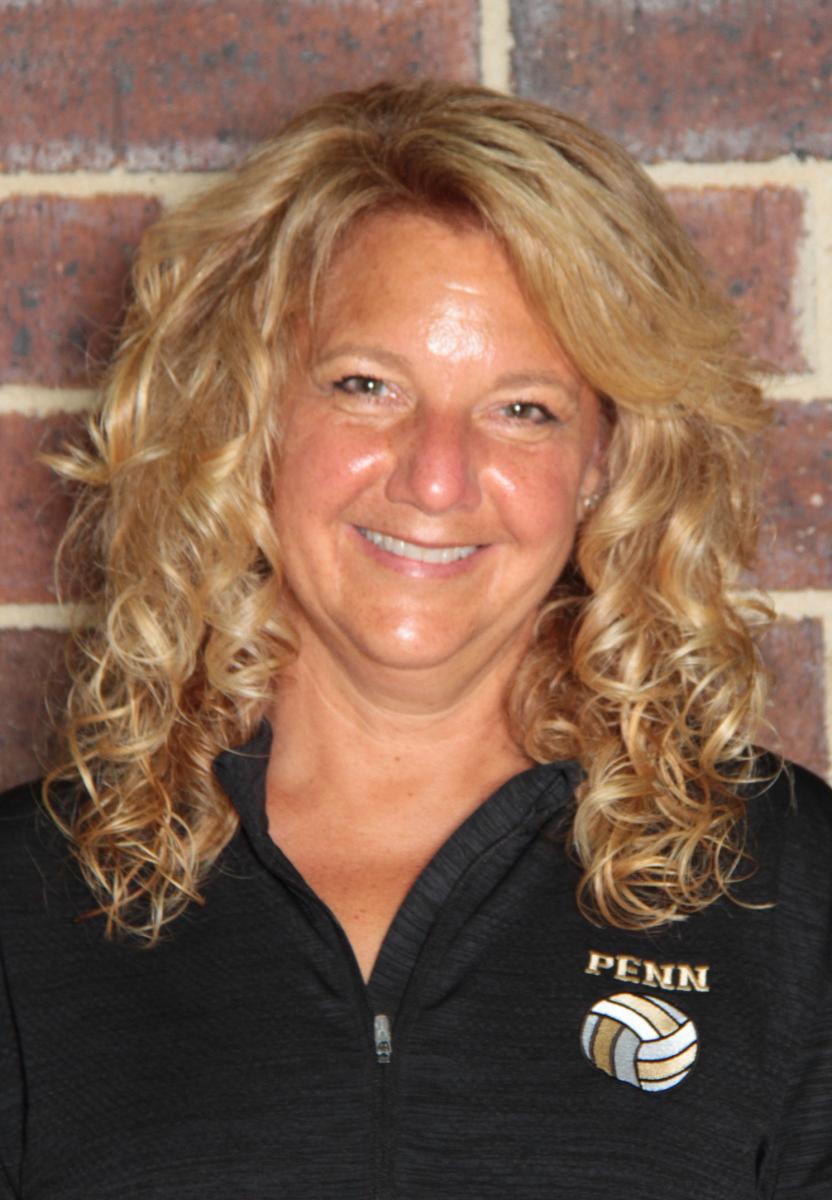 Head Coach: Lisa Pawlik
Coach Pawlik is no stranger to Penn Volleyball or coaching. Her love of the game, this program she created, and the passion to coach special student-athletes has brought her back to Penn Volleyball.
Coach Pawlik has achieved with her players more than 800 victories. Under Pawlik's direction, the Kingsmen developed State Finalist Teams in 1995, 2000, 2004, 2006, were State Runner-Up in 2002, and captured the first STATE CHAMPIONSHIP in Volleyball at Penn in 2010. There are so many memories and little things that make this program one of the elite volleyball programs in the state on and off the court. She has been blessed with a supportive family with her husband Rod and children Lexie (husband - Nic) & Jeffrey. The tradition of excellence goes with the honor of representing Penn High School and this community.
Coaching Philosophy:
There are a few philosophies and ideas that have stuck with me throughout my years of coaching. I always look for positives when I coach. If you can celebrate the little things throughout each practice, meeting, and game; the big accomplishments become that much sweeter. I believe in a family atmosphere. If you can rely on the people around you to get you through struggles or challenges in practice you are ready to compete for the person standing next to you in a match. It is each person's responsibility as a part of my program to put their teammates above themselves. Success comes to people who believe and have the mentality of, "We is greater than me". Lastly, when a player leaves our program they will be a part of a sisterhood. This sisterhood is to be cherished, talked about, remembered, and honored by the current team.
E-mail Coach Pawlik at lpawlik@phm.k12.in.us
​
Lexie Banks: Varsity Assistant
Coach Banks is entering her first season as the Varsity Assistant Coach. Before coming to Penn, she has been working with youngsters through coaching and teaching the past two years and is excited for what lies ahead.
Coach Banks was a student-athlete at Penn High School and played four years for Penn's Varsity Volleyball Team. During her time with Penn Volleyball, she had the privilege of being the setter a part of the first State Championship in school's history. As part of the "Sisterhood," she recalls her favorite memory of Penn Volleyball to be every opportunity she got to step on the court with her teammates. The matches were what you went through all the conditioning, practice, and hard work for to be able to compete at a high level.
Coach Banks spent two years at the University of South Carolina and then transferred to Western Michigan University, where she ended her career. While at Western Michigan, Coach Banks led her team to win the MAC Conference Tournament her senior year. They also had the opportunity to be a part of the NCAA Women's Volleyball tournament. Lexie graduated from Western Michigan in 2016 with a degree in Elementary Education and was married to husband, Nicholas, in 2016. Coach Banks' coaching experience encompasses many ages and she is excited to be a part of Penn Volleyball once again in a coaching role.
Coaching Philosophy:
My coaching philosophy can be summed up in this quote, "There is no easy way to success, just hard work." I expect each student-athlete to come to practice, game, or conditioning session ready to work hard and compete each day. I don't ask them to be perfect, but I do ask for full effort every time they step on the floor. This will give them the tools to be successful in anything they do.
Jordan Brough - Junior Varsity Coach
Coach Brough is in her first season as the Junior Varsity Volleyball Coach at Penn High School after spending the 2017-2018 season as the Freshmen Volleyball Coach at Penn. Being a Penn Volleyball alumni (part of the Sisterhood) and winning back-to-back state championships in 2010 and 2011, she is very excited to be back as part of such a legendary program.
In high school, Coach Brough played for Penn as an Outside Hitter. Her best memory, although there are many from playing at Penn, is all of the fun activities leading up to the first State (Championship) in school history. "Touring the campus at Ball State and walking into Worthen Arena … the funny part though was when the fire alarm went off in the hotel early in the morning the day of State when we were all sleeping, and all we cared about was grabbing our shoes and our jerseys so we could still play to win state even if the hotel burned down."
Her club experience included playing for Dunes Volleyball Club as well as Northern Indiana Volleyball Association (NIVA), where she currently coaches 14-1's. She has been coaching ages 12-15 at NIVA for the past five seasons.
Brough went to Anderson University to pursue her love for volleyball as a collegiate athlete, but injuries got in the way. She returned home to Granger and started school at Indiana University South Bend, where she eventually played as a defensive specialist. While at IUSB, in 2017, her team qualified for the NAIA National Tournament and finished runner-up for conference champions. She will maintain degrees in Accounting and Finance in December 2018.
Coaching Philosophy:
I always strive to help shape all aspects of an athlete on and off the court. A student-athlete isn't an athlete without the student. My goal is to provide support to all athletes in the classroom, as well as build noble character on the court. Being a coachable athlete with an excessive sense of work ethic is what I love to see.
Erica Dregits - Freshmen Coach
Coach Dregits is entering her first season as the freshmen coach. She has been investing in the lives of students through teaching and volleyball. She brings seven years of high school coaching experience as a JV, Varsity Assistant, and Head Volleyball coach at Jimtown High School.
Coach Dregits also has extensive playing experience, playing high school volleyball at Illiana Christian High School in the Chicagoland area, where she was a standout athlete. After high school, she went on to play volleyball at Bethel College, where she was a middle blocker. As an All-American, her team qualified for NCCAA Nationals all four years and her team was NCCAA champions in her final year.
Coach Dregits has an Elementary Education degree from Bethel College. In the past 10 years, she has taught kindergarten, first grade, and fifth grade. She is married to Steve Dregits and they have a daughter named Harper. Outside of volleyball, Coach Dregits enjoys reading, staying active, and watching HGTV.
Coaching philosophy:
First, each player plays a vital role on a team and contributes equally. Some roles may not be as flashy as others, however if you are a part of a team, you are important. Second, hard work and effort show more about an athlete than their God-given talent. Thirdly, my goal is to advance an athlete's skills, but more importantly to develop leadership skills, discipline, and a good work ethic-- all things that will help them be successful after their volleyball career is done.