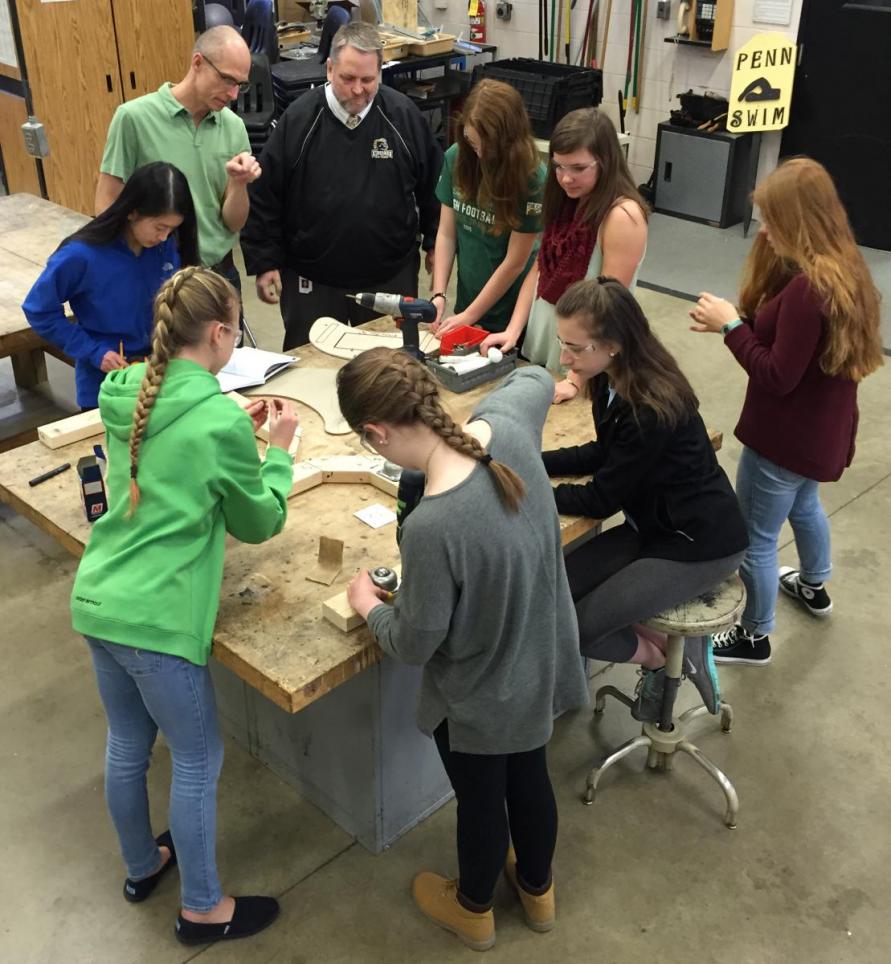 By KENNEDY PARKER
Penn High School student reporter
Penn's all-girls Intro to Engineering Design (IED) class is working on a project to promote learning and helping others. The project, coined "Voice for Braylen" is allowing the students to work together to solve a real-life problem.
The project is centered around a kindergarten student at Elsie Rogers, named Braylen, who is affected with Joubert Syndrome, which affects his balance and coordination. He is very intelligent, but unable to speak or get around very well. He has received a new device to help him speak, called the Accent 800. This technology allows him to touch different pictures on the screen and the tablet will speak for him. The engineering class is designing and building a stand that will hold the device and make it mobile so that Braylen can easily take it with him during the school day.
Mr. Jim Langfeldt is the teacher of all-girls IED class, as well as robotics and other IED classes. "Besides the obvious that it's all girls, there's not a lot of difference between the all-girls and a traditional IED class." Langfeldt said, "I think the chemistry inside the class is much different, but that really is driven by who ends up taking the class."
Sophomore all-girls IED student Kaitlin "Kait" Kelsey agrees. "Having an all-girls class has been such a blessing. We approach problems differently. An all-girls class allows us to share our ideas unapologetically."
Mr. Langfeldt found out about Braylen after last year's "Hand of Grace" project was publicized.
"The principal (at Elsie Rogers) reached out to me in the fall of this year, mentioning that they had a need," Langfeldt said.
The students have been in contact with Braylen's teachers and aides, and are currently working on concepts and modeling their designs on the computer. They're also working on mock-ups to show the general idea of the stand before building the final version.
On Monday, March 21, some of the girls in the class are visiting Elsie Rogers to interact with Braylen and see what concepts are going to work best for him.
When asked about the value of project-based learning, Langfeldt replied, in part, "Since I've started teaching, I've always found that giving students a reason and a passion to be in class and to work hard at things is important… when we connect things we're learning in class to the real world, it makes everything that much more exciting."
Aside from technical skills like computer modeling, using design software, and 3D printing, students in IED learn life skills as well. Kelsey stated, "But I believe the most important skills I've learned are team building, communication, and reliability."
"My class has created an environment where I know I can succeed. Furthermore, the projects we do have been so much fun," Kelsey added, "This has given me a sense of purpose and true joy because when I wake up I know I get to help someone in need."
The class is giving the stand to Braylen free of charge. Some materials they have access to from school, but there will be some expenses involved. If you are interested in donating to help fund purchases of necessary materials, donations can be sent to Penn High School, directed to Jim Langfeldt and "Voice for Braylen."