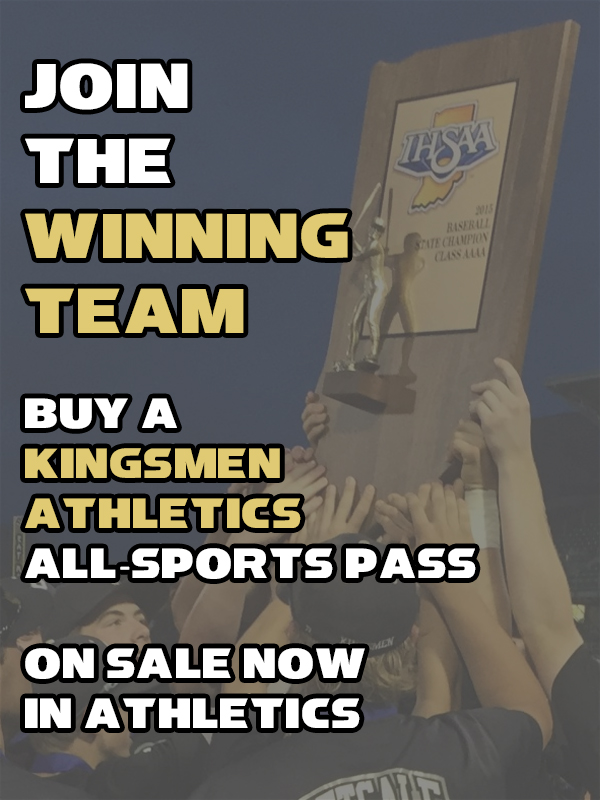 Letter from Penn High School Director of Athletics and Student Activities, Aaron Leniski
Dear Kingsmen Sports Fan:
Athletically, Penn High School has established itself as a perennial power in the state of Indiana. Last year saw several of the Kingsmen teams participate at the semi-state and state final competitions. In addition to this, the Kingsmen had a record of winning more than 80% of all varsity contests they entered.
Under the direction of our head coaches, this year promises to be just as successful and we need your help to make that happen. Your support is necessary for our continued success because in Indiana, (except for facilities, some travel and coaching salaries) the athletic program is not supported by tax dollars. All equipment, supplies and other accessories associated with any of our athletic teams must come from gate receipts, fundraisers or donations.
The "All-Sport Pass" is an invitation to you to become part of the reason why Penn High School Athletics have become so successful. I hope you can see your way to help support our student-athletes with the purchase of an "All-Sport" or a "Season" pass. In return, we will supply you with a reserved seat at home football and boys and girls basketball games, one parking pass per family, or you may choose available seating. If you purchase an Adult All-Sport Pass, you will get one parking pass per family to use at home football games. This allows you to 'not pay to park.' It does not allow you special parking in the back lot. The overall savings through the purchase of one of these tickets is significant as you can see by the prices listed below. Thank you and I look forward to seeing you as the Kingsmen continue the Tradition of Excellence.
Aaron Leniski
Director of Athletics and Student Activities
Send in your check made payable to the Penn Athletic Department by July 16, 2017 to have your tickets processed before the first home football game. Tickets are assigned on a first-come, first-serve basis.
If you have any questions or concerns, please contact the Penn Athletic Department at (574) 258-9537.
| | |
| --- | --- |
| All-Sport/Season Ticket Prices | |
| Adult All-Sport | $70 |
| Adult Season Football | $30 |
| Adult Season Basketball | $45 |
| Student All-Sport | $50 |
| Student Season Football | $20 |
| Student Season Basketball | $30 |
Family package (2 adults, 2 children) $200
Four-year pass (Penn Freshmen students only) $150